Help us help our community

The WHCH Endowment Fund provides long-term financial security for services that help children and families, and adults with disabilities.  It consists of charitable contributions made to the Endowment Fund, as well as funds designated by the WHCH Board of Directors.  Revenue generated by the Endowment Fund may be applied toward WHCH services, or added back in to the Endowment Fund to expand the principal base upon which future income may be earned.
The Endowment principal can never be touched, ensuring that it will support WHCH activities for generations to come.
As of February 2021, the WHCH Endowment Fund was valued at $909,837.
The Endowment Fund is professionally managed by The Community Foundation for Greater New Haven, which reports back to the seven-member Endowment Committee appointed by the WHCH Board of Directors.
Named funds can be established with a minimum contribution (or pledge) of $5,000.  Gifts may also be made, or a named fund established, through one's will.
Contributions can be made 'in memory' of' or 'in honor of" a loved one's birthday, anniversary or passing, etc. using our gift acknowledgement cards.
For questions regarding the WHCH Endowment Fund, please contact Deborah Wright, Assistant Executive Director, Finance Operations, at 203-934-5221 ext 120.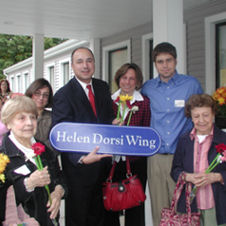 Named Funds
Eugene & Helen Dorsi Fund
Eder Brothers Fund
Jill Fleming Fund
Kenneth S. Ginsberg Fund
Patricia Hebert Fund
Heffernan Family Fund
Beatrice Howell Fund
John & Dodi Ireland Fund
Mary Jane Kelly Fund
Jean & Nathan London Fund
Randolph A. Maitz Fund
Sharon Martin Fund
Eugene McCarthy Fund
Pvt. Stephen McHugh Fund
Scott Merriam Fund
Sophia O'Connor Brown Fund
Dr. John Onofrio Fund
Ralph Paolillo Fund
Helen & Nello Pinzi Fund
Sacco-Monacco Fund
Scanell-Torello Fund
Peter Schwartz Fund
James Shanbrom Family Fund
Patricia Stevens Family Fund
(as of September 2023)