We provide positive social interaction and enrichment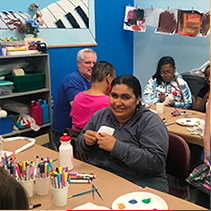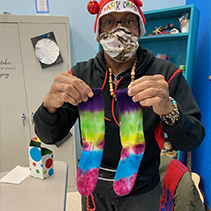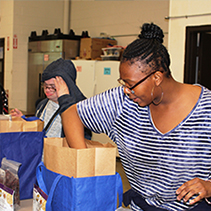 Day Support Hourly (DSH)
The DSH program provides positive social interaction and enrichment for adults who do not participate in employment programs. Individuals enjoy a variety of single and group activities that focus on increasing skills to learn how to be as independent as possible in their home and community environment.
Typical activities include: exercise, cooking, finance and budgeting skills, social skills, volunteering, gardening; computers; sign language; safety; nutrition; hygiene. In addition, we visit local attractions including museums, parks, theatre and sporting events where clients work on daily living skills in a natural environment.
SMILE (Seniors Maintaining Independent Lifestyles Everyday)
The SMILE program is intended for retired or slower-paced individuals who are age 50+. People with intellectual disabilities are aging at unprecedented rates and have unique health and service needs. As health and medical advancements have helped these adults live longer, the focus and scope of our services has evolved to meet the various needs of these aging adults.
Typical activities include: exercising, salon days, pet therapy, coffee hour, interactive video games, mental acuity games, art therapy, recreational activities in the community and more.
Individualized Day (ID)
The ID program provides services that are tailored for adults who do not attend a day program, but would like a program built to their personal needs. ID is offered in conjunction with our Day Support Hourly (DSH). Individuals enjoy a variety of activities that achieve community inclusion, recreational enjoyment and skill building. Services can be provided in their home, nursing facility or out in the community.
The Avenues Program
The Avenues Program is designed to increase independence, enhance community inclusion and improve the quality of life for young adults with intellectual disabilities ages 18 to 22. We provide positive social interaction and enrichment for young adults to meet the ongoing and ever changing needs of youth with intellectual disabilities, with the emphasis on career exploration and building life skills.
We have the unique opportunity to work with both the individual and their families to explore the different avenues available as they transition to the next chapter in their lives.
Click here to view the Community Connections Newsletter.
Click here to view the Community Connections Employment Opportunities.
*To view the PDF files on this page, you will need Adobe Reader.
Day Service Options Contacts